impact | motivate | inspire
Kevin Brooks is a leading youth speaker on suicide prevention, overcoming obstacles and impaired driving. He is living proof that one poor choice can change one's life forever, or even end it. From his wheelchair, Kevin tells the story of the night that changed his life forever… Kevin left a party, driving at excessive speeds after a night of drinking. He was not alone. Beside him sat his passenger and childhood friend Brendan. The result — a horrific crash. Brendan didn't walk away from the crash. Neither did Kevin.
Today, Kevin shares his life-changing story with audiences of all ages and sizes across North America and has reached over half a million people in thousands of high schools and community-sponsored events.
His honest and straightforward presentation reaches students like none other. Kevin's unique style of motivation inspires people to appreciate life in profound new ways, and audiences leave his presentation with real-life strategies for making better, smarter moment-to-moment decisions.
»Topics Include
Kevin Brooks Official Programs
Impaired, distracted and dangerous driving

Suicide prevention, self-harm and depression

Bullying, relationships and forgiveness

Decision making and peer pressure

Coping with guilt, tragedy and stress

Leadership and creating positive change
*Perfect for: High schools and middle schools, Provincial, state and national conferences, Colleges and universities, Military organizations, Athletic teams Prom, homecoming and graduation season, Community forums and events.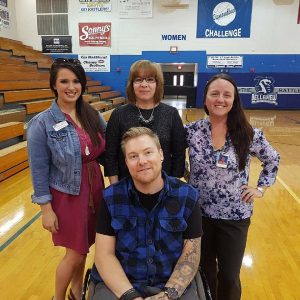 "You made a difference in at least one student's life in as little as one day. You truly have a gift; thanks for sharing it!"
"It's been nearly three years since | saw Kevin's presentation, but his inspirational message still follows me to this day."
"The fact that 1 could have heard a pin drop for an hour with 350 young people waiting to hear your every word speaks to the power of your message."