impact | motivate | inspire
DISTRACTED. DANGEROUS & IMPAIRED DRIVING | SUICIDE PREVENTION, SELF HARM & DEPRESSION
BULLYING, RELATIONSHIPS & FORGIVENESS | DECISION MAKING & PEER PRESSURE
OVERCOMING OBSTACLES | LEADERSHIP & CREATING POSITIVE CHANGE
& MORE!
In just over a decade Kevin has spoken to over half a million people across North America. His story has impacted, motivated and inspired countless people, ultimately changing attitudes and saving lives.
Kevin's mission is to impact, motivate and inspire, and he does just that in his programs for middle, high school and college students, community events, athletes, military members and other organizations.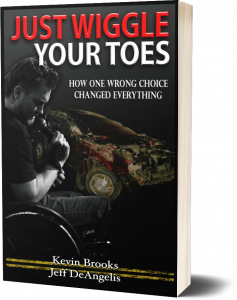 Click to Book with Kevin or Buy Kevin's Best-Selling & Life-Changing book "Just Wiggle Your Toes".
IMAGINE ONE DAY IF YOU WOKE UP
AND COULDN'T WIGGLE YOUR TOES!
For nearly 20 years Kevin's message has been inspiring millions of people from all over the world.
Impaired, distracted and dangerous driving
Suicide prevention, self harm and depression
Bullying, relationships, forgiveness
Decision making and peer pressure
Overcoming obstacles and coping with guilt, tragedy and stress
Leadership and creating positive change
High schools and middle schools
Provincial, state and national conferences
Colleges, universities and Greek organizations
Military
Athletic teams
Community forums and events
Parent's nights
and more!
"IF OUR STUDENTS EVER HEAR ONE SPEAKER IN THEIR LIVES, IT HAS TO BE KEVIN BROOKS"
Jodi Abel, Teacher & SADD Advisor